Delhi has a rich heritage of skilled craftsmen. Delhi in olden times gained its importance in arts, crafts and industries like Jewellery, embroidery, silver vases and bowls and tea sets, ornamental jewel boxes made of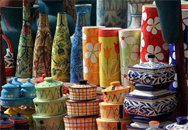 brass, silk and silk embroidery, ivory carvings, handloom, textiles, copper and brass utensils. In the later half of the 19th century three iron foundries and engineering works were established in Delhi. Delhi's textile industries foundation were laid by the installation of two cotton weaving and spinning mills. First ice factory was set up in 1907 and the first flour mill in 1917, first match factory in 1931, first oil mill in 1932 and the first acid factory in 1934. During the period of 1981-82 to 1989-90 there was an increase of about 62 % in the number of industrial units.

As minerals, Delhi has some building and road making materials and some China clay deposits. The building and road making material comprises sand, stone and bajri. The quartzite rock available on the ridge is very useful for the manufacture of stone wares and buildings. Kaolim is used as a principal raw material for refactory industries and fire clay for brick manufacture and china ware.

From the point of view of transport, Delhi constitute a centre of both national as well as international importance. Delhi is having important road links with different parts of the country from its olden days. The Grand Trunk road, which is a national highway of great importance, passes through Delhi.

Delhi was opened to railway traffic on January 1, 1867. The Delhi Ambala-Kalka railway was opened on March 1, 1891. Today, Delhi is well connected by rail to different parts of the country through its 3 main railway stations. i.e., New Delhi, Delhi Junction and Hazrat Nizamuddin.

Delhi is well connected by Air Service to different parts of the country and the world. The Indira Gandhi International Airport Terminal I used for domestic flight, where as Terminal II serves as an important International airport, linking the different parts of the world. Large number of International air companies and Air India use this airport.

Most important goods manufactured and exported in Delhi are readymade garments and imported things are electronic components. The important trading centres in Delhi are fruit and vegetable market, food grain market, fodder market, cloth market, bicycle market, dry fruit market and hosiery and general market.

Important crops grown in the union territory are wheat, gram, Bajra and Jowar. The important sources of irrigation are Tube wells, wells and canals.

Buffaloes are the main source of milk. Pigs and goats are a main source of meat. Others are horses, ponies, and camels and poultry comprising of fowls and ducks.