Making a hanging planter with ice cream bowls is an easy and fun project. These Ice cream bowls are easy available, relatively inexpensive and make great natural hanging planters.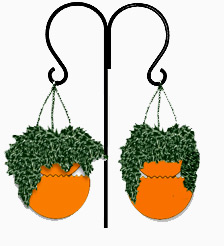 Materials:
Plastic Ice cream bowls (round or oval shaped) of various sizes
Small Bottle tops
Glue
Plant
'S' hooks
Fishing line
Rope
How to make:

Paint the ice-cream bowls with any colour of your choice. Let it dry. Take a bottle top and glue it to the tip of the smaller half of ice cream bowl in a way that the open end of the bottle top fits over the tip of the bowl. Make 3 holes around the upper edge of the bowl. These holes are for hanging the planter. Also make holes around the bottom of the bowl to drain water. These holes should be big enough to drain water freely from the planter.



Repeat the same procedure with the other bowl, comparatively larger in size to the previous one, but don't glue the bottle top to the ice-cream bowl. Join the two bowls together (open part on top) with plastic thread through the holes, so that the small bowl is at the top and the larger one at the bottom. There should be a small distance between the two bowls. The bottom half of the bowl acts as the saucer under the planter and will catch the drips when plants are watered.

Take three long fishing line. Thread the lines through the holes in the small bowl, from the inside and thread the same line through the holes of the bottom bowl in the same way and tie the lines on the S hook. (You can join the two bowls together either this way or in the procedure mentioned above).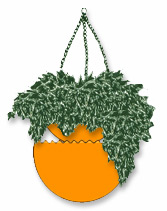 Now fill the planter (smaller bowl) with soil, plant small plants like herbs or plants with small leaves in the smaller bowl and hang it up. Hang three or more planters at varying heights for best effect.
Use artificial or live plants. Change live plants with the seasons. Be especially careful not to over water your plant.