SARI
In India, majority of women wear sari. The sari is a long piece of cloth about a meter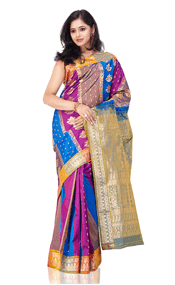 wide and 5 to 51/2meters long. The sari is draped over a long skirt. A tight fitting blouse known as choli is worn on the upper part of the body.
Saris of different designs and materials are available in a variety of colours. It is made out of cotton, silk and other synthetic materials. The cost of the saris varies according to the quality. The outer end of the sari or Pallu is most attractive especially on silk saris.
Women of Tamil Nadu wear silk saris on special occasions. The Brahmin community wear the sari in a slightly different way without wearing the long skirt. The length of the sari which they wear is longer (nine yards) than the usual one. It is wound separately on both legs in a proper way without restricting the person's free movement.
Kanchipuram in Tamil Nadu and Mysore in Karnataka are famous for their unique silk and cotton saris.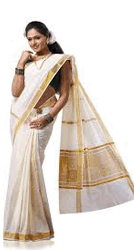 Andhra Pradesh is famous for its cotton saris which is designed with jerry and thread. The saris woven at Venkatagiri and Pochhampalli in Andhra are famous. Cotton saris of Bengal is ideal as a summer wear.
In Kerala, women wear their traditional two piece cloth called mundu and neriyathu. The 'mundu' (one piece) is draped on the lower part of the body. The second piece; 'neriyathu' is worn on top, over a blouse in the same way as the saris. This mundu also called 'Settu Mundu' is the traditional attire. The mundu was worn in a different way by the women of the royal families.
Saris are worn in different ways in many places, especially in Gujarat, Manipur, Maharashtra and Coorg (Karnataka).
How to wear a Sari.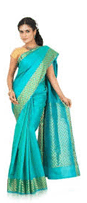 Indian women clad in sari's have a charm of their own. Generally the saris are worn in the following way.
Unfold the sari into a single length. The inner top end of the correct side (the side of the sari where the print is most elegant) should be tucked into the long skirt which is already worn.

While tucking in, the breadth of the sari (height) should be of floor length.

The sari is wound around the waist and the remaining length of the sari should be brought to the front.

The other end of the sari (pallu) should be pleated in three or four pleats in length and pinned to the blouse on the left shoulder. It should hang behind the shoulder a little below the knee.

Many pleats are taken with the remaining length of the sari (in the front) starting from the right side. It should be carefully and neatly tucked into the long skirt without protruding.

The skirt should be moderately tight and the tucking should be proper, otherwise if stamped, the pleats might come out.

The other end of the sari (pallu) pinned on the left side shoulder can also be left in single layer without pinning.