Materials Required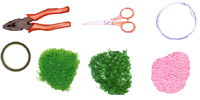 Beads

Round Glass Beads are usually used for Flower making. Glass Beads are available in a variety of colours and different textures. Clear crystal beads lined with dye, Transparent beads with the light shining through giving a jewel like appearance and Chalk or solid beads which are not at all transparent. Large beads are used on stem wires for finishing the stem of a flower or the centre veins of leaves.
Basics of Petals

Petals can be of different shapes like round, pointed, loop, wrap shape etc. Some designs have the petal pointed at one end and some at both end.. You can make all the petals of the flower continuously with one wire or make each petal with different wires and join them to make a flower.
Basic count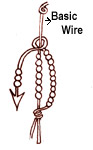 A basic wire to string the basic count of beads, around which the design is formed is needed for both round and pointed petal.
Take a silver or gold wire cut out a piece of wire to string the basic number of beads needed for the particular design. The lower end of the basic wire is the 'bottom' of the petal and upper part is the 'top' of the petal . The shape of the top and bottom of the petal depends upon the design.
Stem

After making the flowers . Make a loop with the feed wire left.
Decide the length of the stem. Say if its about 12", cut a 24" length piece from the wire and fold it in exactly half. So that the stem will look thick or use a thicker wire for the stem. At the end of the stalk make a small bend and hook it on the loop below the flower. Then wind the green tape around the stem completely.
Binding Flowers or leaves to the stem
Hold a binding wire very securely against the stem.

Bring the bottom of the petal or leaf close to the stem wire with its hanging stems downward.

Wind the wire tightly around the stem.

Each leaf or petal is attached one at a time with the same piece of winding wire.

When all petals have been joined to the stem go around the stem with the binding wire another two turns and cut away.